Salgado Filho Airport, Brazil live webcam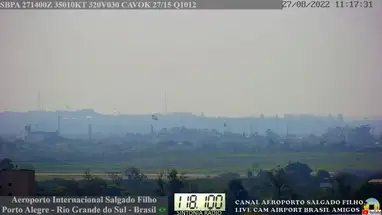 Salgado Filho Airport, Brazil
Salgado Filho International Airport (POA) is located in Porto Alegre, Brazil, and serves as the major international airport in the southern part of the country. This airport is the busiest airport in the state of Rio Grande do Sul and is served by a variety of domestic and international carriers. The airport is a hub for Gol Airlines and TAM Airlines, and is also served by Azul Airlines.
The airport features two terminals, one for international flights and one for domestic flights. The international terminal is equipped with all the necessary facilities, including check-in, security, baggage claim, and duty-free shopping. Passengers can also enjoy a variety of food and beverage options from a wide range of restaurants and cafes.
The airport is well connected to the city of Porto Alegre, as there are several transportation options available to passengers. A shuttle service is available to the city center, and taxis, buses, and rental cars can also be found near the airport.
Salgado Filho International Airport is also equipped with an online webcam. This webcam is available for anyone to view the airport from any point in the world. The webcam provides an amazing view of the airport and its surrounding area. It captures the airport's activity, including takeoffs and landings, and can be used to monitor the weather and air traffic control.
Overall, Salgado Filho International Airport is an excellent choice for travelers looking to visit the beautiful city of Porto Alegre. The airport is equipped with all the necessary amenities and services and is easily accessible from the city center. The online webcam is a great way to monitor the airport's activity and the surrounding area.
Comments
Camera on the map and the Nearest