Orcas Rubbing Beach Cam live webcam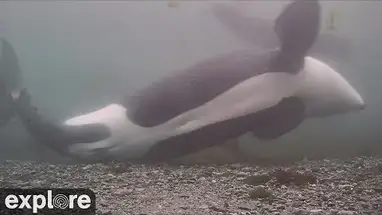 Sorry, the camera is currently unavailable
Orcas Rubbing Beach Cam
If you're looking for an up close and personal experience with nature, the online webcam Orcas Rubbing Beach Cam in Canada is a must-see. Located at the Johnstone Strait, this live cam offers a unique opportunity to view orcas in their natural habitat right from your computer or mobile device.
The beach cam is located in the Robson Bight Ecological Reserve. The reserve is an important part of the orca whale habitat, with a large pod of whales making the area their home. The live stream allows viewers to watch the orcas as they come close to the beach to rub themselves against the rocks and gravel. This special behavior is known as "rubbing" and it is thought to be a way for the whales to exfoliate their skin and keep it healthy.
The webcam is a great way for viewers to get a close look at these magnificent creatures. It is also a great opportunity to learn more about the orcas and their behavior. The live stream is provided by the Vancouver Aquarium and is available 24 hours a day, seven days a week.
The video feed of the beach cam offers an amazing view of the orcas as they swim and rub against the beach. While the stream is live, the video is also recorded, so viewers can go back and watch the orca activity at any time.
The webcam Orcas Rubbing Beach Cam in Canada is a great way for nature lovers to experience a unique wildlife experience. Whether you're a fan of orcas or just looking for a way to connect with nature, this webcam is sure to provide an unforgettable experience.
Comments
Camera on the map and the Nearest