Barn Owls & Other Wildlife live webcam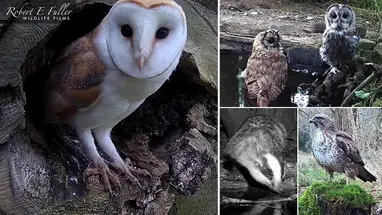 Barn Owls & Other Wildlife
The United Kingdom is home to a variety of wildlife, including barn owls and other rare birds. These birds are a symbol of the UK's vibrant and diverse nature, and can be seen in many areas around the country. For those who want to be able to watch the birds in their natural habitat, there are now online webcam systems that allow you to do just that.
Barn owls are the most common birds of prey in the UK, with an estimated population of over 20,000. These birds are specialised hunters, and use their acute hearing to locate their prey. They generally feed on small mammals such as voles and mice, but they can also be seen hunting for insects and small birds. Barn owls are easily recognisable by their distinctive heart-shaped faces, white breasts, and long legs.
Online webcam systems provide a great way to observe these majestic birds in their natural habitats. Many of the webcams are located in nest boxes, giving you a front row seat to the birds' courtship, nesting, and day-to-day activities. You can also watch barn owls hunting, as well as feeding their young.
The UK is not only home to barn owls, but also to a variety of other rare birds. The rarest of these is the red kite, which is a species of raptor that is only found in parts of the UK and Ireland. These birds can be observed hunting for small mammals and birds, as well as soaring high in the sky.
In addition to barn owls and red kites, there are also a number of other rare birds that can be seen through online webcams. These include species such as the Curlew, Lapwing, and Short-eared Owl. With these webcams, you can observe these birds in their natural habitats, as well as watching them interact with other species.
The United Kingdom is home to a wide range of amazing wildlife, and online webcams provide a great way to observe these species in their natural habitats. From barn owls to rare birds, you can watch these animals in their natural environment and learn more about their behaviour. So if you're looking for a way to connect with nature, online webcams are a great way to do just that.
Comments
Camera on the map and the Nearest