Rowe Sanctuary live webcam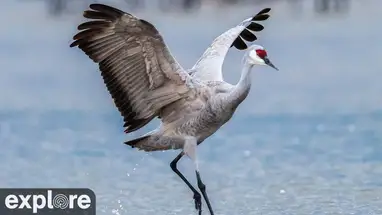 | | |
| --- | --- |
| Status: | Camera is working |
| Country: | United States |
| Timezone: | GMT-06:00 |
| Tags: | |
Rowe Sanctuary
Rowe Sanctuary, located in Gibbon, Nebraska, is a wildlife refuge that has gained a reputation as one of the best places to view birds in the United States. The sanctuary is home to a variety of bird species, including sandhill cranes, whooping cranes, bald eagles, and many more. Visitors to the sanctuary can enjoy the beauty of the birds in their natural habitat and take in the stunning views of the Platte River.
The sanctuary is open year-round and offers a variety of activities for visitors. During the spring and summer months, visitors can take part in guided bird walks, bird watching, and photography opportunities. In the winter months, the sanctuary hosts a variety of educational programs, such as nature hikes, birding classes, and lectures.
The sanctuary also offers live webcams that allow visitors to view the birds and other wildlife from their own homes. The webcam system is made up of three cameras, located at different points on the property. One camera is located at the Platte River, giving viewers a great view of the birds that frequent the area. Another camera is located at the edge of the sanctuary and offers a view of sandhill cranes and other wildlife in the area. The third camera is located in the center of the sanctuary and gives a 360-degree view of the area.
The cameras are designed to be user-friendly and can be accessed from any computer or device. Visitors can also take advantage of the interactive features, such as the ability to zoom in and out. The Rowe Sanctuary webcam system is a great way to experience the beauty of the sanctuary without ever leaving the comfort of your own home.
Rowe Sanctuary is a must-see destination for bird watchers and nature lovers alike. With its stunning views, variety of activities, and live webcams, Rowe Sanctuary is sure to provide visitors with a memorable experience.
Comments
Camera on the map and the Nearest