Geiranger Cruise Pier, Norway live webcam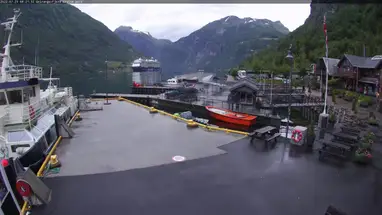 Geiranger Cruise Pier, Norway
Geiranger Cruise Pier is one of Norway's most popular tourist destinations. Located in the small village of Geiranger, this pier is a must-see for anyone visiting the country. From the pier, you can take a cruise along the Geiranger fjord and witness the stunning beauty of Norway's natural landscape.
The pier itself is located in the heart of the village, so it's easy to get to by either foot or car. It's also a great spot for taking pictures, as the pier offers stunning views of the surrounding area. There are numerous souvenir shops located at the pier, so you can pick up a few mementos to remind you of your trip.
From the pier, you can take a cruise around the Geiranger fjord. The cruise will take you past the famous Seven Sisters waterfall and the famous Eagle's Bend. During the cruise, you'll get the chance to witness some of the best scenery in Norway. The fjord is dotted with picturesque villages, lush green hills and stunning mountains.
If you're looking for a unique way to experience the Geiranger fjord, consider taking an online webcam cruise. Online webcam cruises offer a great way to experience the fjord without ever leaving your home. All you need is a computer and an internet connection. From the comfort of your own home, you can watch the cruise boat as it sails past the stunning scenery.
On the online webcam Geiranger Cruise Pier, Norway, you can take a virtual tour of the fjord. You can also get information about the various villages and attractions along the way. The online webcam also offers a great chance to spot wildlife and take in the sights.
So, if you're looking for a unique way to experience Norway's stunning landscape, consider taking a cruise on the Geiranger Cruise Pier. With the online webcam, you can explore the fjord and its attractions from the comfort of your home. You can also pick up a few souvenirs to remind yourself of your trip.
Comments