Penguins Cam, Saint Louis Zoo live webcam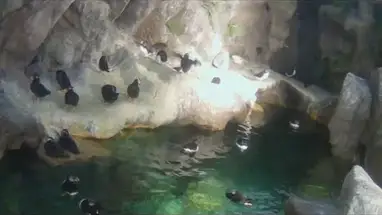 Sorry, the webcam is currently unavailable
| | |
| --- | --- |
| Status: | Webcam isn't working |
| Country: | United States |
| Timezone: | GMT-06:00 |
| Tags: | |
Penguins Cam, Saint Louis Zoo
If you're looking for a fun and educational way to get up close and personal with some of the world's coolest birds, then you should definitely check out the Penguins Cam at the Saint Louis Zoo in the United States. This live web cam allows you to watch the amazing antics of African Penguins as they go about their daily lives.
The Penguin Cam is located in the Penguin and Puffin Coast exhibit at the Zoo, which was specifically designed to provide a home for the African Penguins. This exhibit features a large pool filled with icy cold water, providing a great environment for the birds to splash around in and stay cool during the hot summer months. As you watch the Penguins Cam, you'll be able to catch a glimpse of the birds' playful personalities as they dive and waddle around the pool.
The cam also allows you to get a close-up look at the amazing colors of the penguins' feathers, which range from black and white to gray, brown, and even yellow. It's an amazing sight to see these birds in their natural habitat, especially when they get together in a large group to form a "raft."
The Saint Louis Zoo is proud of its Penguin Cam, as it is the only exhibit of its kind in the United States. It is also a great way to teach children about the importance of wildlife conservation and how we can all work together to protect these beautiful creatures.
So if you're looking for an exciting way to spend some time with your family, then be sure to check out the Penguins Cam at the Saint Louis Zoo. You'll be sure to have a great time watching the birds play, and you'll be doing your part to help protect these amazing animals.
Webcam on the map and the Nearest