Cavia Foundation, Bakkeveen live webcam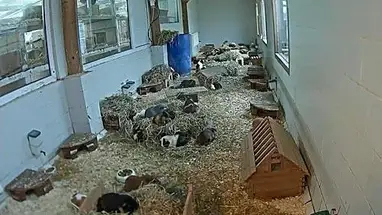 Sorry, the camera is currently unavailable
| | |
| --- | --- |
| Status: | Camera isn't working |
| Country: | Netherlands |
| Timezone: | GMT+01:00 |
| Tags: | |
Cavia Foundation, Bakkeveen
The Cavia Foundation in Bakkeveen, Netherlands is a unique non-profit animal welfare organization dedicated to the well-being of cavies. Cavies, also known as guinea pigs, are small rodents that are popular pets around the world. The Cavia Foundation provides a safe and loving home for these animals, ensuring that they receive the care and attention they need to lead healthy and happy lives.
The Cavia Foundation was founded by Jan and Nelke De Boer, two animal lovers who wanted to make sure that cavies received the best possible care. The foundation is based in Bakkeveen, a small rural village in the Netherlands, and the De Boers have been running it since 1999. Their mission is to provide a safe and social environment for cavies and to promote responsible pet ownership.
The Cavia Foundation provides a variety of services for cavies including veterinary care, spaying and neutering, and adoptions. They also host regular events and educational programs to raise awareness about cavies and their needs. One of their most popular services is their online webcam, which allows visitors to view and interact with the cavies in real time. This webcam has become a popular attraction and has helped to raise funds for the foundation.
The Cavia Foundation also works closely with other animal welfare organizations in the Netherlands, including the Animal Protection Society, the Dutch Animal Protection Foundation, and the Dutch Association for the Protection of Animals. Through these partnerships, the Cavia Foundation is able to provide even better care for their cavies and to spread the word about responsible pet ownership.
The Cavia Foundation is an inspiring example of how one small organization can make a big difference in the lives of animals in need. Their dedication to the well-being of cavies is commendable and their webcam is a great way for anyone to learn more about these amazing animals. If you'd like to support the Cavia Foundation, you can make a donation or volunteer your time to help out at the shelter.
Comments
Camera on the map and the Nearest