Avenida Atlântica, SC live webcam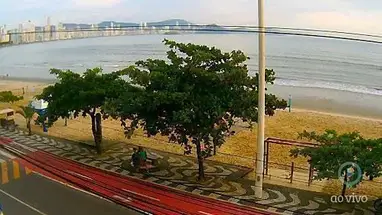 Avenida Atlântica, SC
Avenida Atlântica is a beautiful stretch of beach in the Brazilian state of Santa Catarina. Lined with palm trees, the white sandy beaches of this popular tourist destination are ideal for sunbathing and swimming. Located on the Southern Atlantic coast of Brazil, Avenida Atlântica is known for its vibrant nightlife and stunning scenery. With the help of an online webcam, visitors can get a live view of the beach and its surroundings.
The webcam is installed on a high-rise building overlooking Avenida Atlântica, giving viewers a full view of the beach and the surrounding area. The camera is also equipped with a panoramic view, allowing viewers to take in the entire landscape. This live stream can be accessed from any device with an internet connection, making it easy to check out the beach from anywhere in the world.
The video stream from the webcam is crystal clear, providing an excellent view of the beach and its surrounding areas. From the webcam, viewers can spot a variety of wildlife, such as sea turtles, seagulls, and dolphins, as well as the occasional surfer. During the day, the beach is a bustling hub of activity, with people swimming, sunbathing, and enjoying the beautiful scenery. At night, the beach is lit up with a dazzling array of lights, making it a great spot for a night out.
Avenida Atlântica is a great place to visit for those looking for a tranquil getaway. The beach is clean and well-maintained, and the online webcam allows visitors to get a glimpse of what the beach looks like before they arrive. Whether you're planning a romantic getaway or simply looking for a relaxing spot to unwind, Avenida Atlântica is the perfect destination.
Camera on the map and the Nearest