Historic Basilica Cam, Brazil live webcam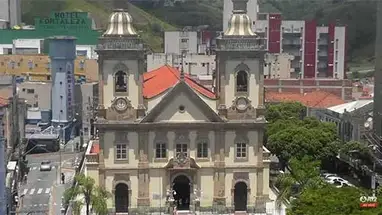 Historic Basilica Cam, Brazil
The Historic Basilica Cam, located in the city of Aparecida, Brazil, is one of the most impressive and important religious sites in the country. With an estimated 5 million visitors each year, it is the second most visited Catholic shrine in the world after the Vatican. The basilica is home to the largest statue of the Virgin Mary in the world and is considered a miraculous site of healing and hope. Now, thanks to modern technology, visitors from around the world can explore the beauty of this incredible site from the comfort of their own homes.
The Historic Basilica Cam is an online webcam that offers a live streaming view of the basilica and its grounds. Visitors to the site can watch the daily activities of the basilica, such as religious services, processions, and other events. The webcam also offers an amazing view of the basilica's grounds, including the iconic statue of the Virgin Mary. Visitors can even take a virtual tour of the basilica, exploring the various chapels and other attractions.
The Historic Basilica Cam is an invaluable resource for those interested in the history and culture of Brazil. The webcam offers an up-close look at one of the country's most important religious sites and provides a glimpse into the daily life of the faithful. It also serves as a reminder of the miracles and hope that the basilica has brought to millions of people over the centuries.
The webcam is easy to access and use, making it a great resource for students, travelers, and anyone interested in learning more about the Historic Basilica Cam. The webcam is available 24 hours a day, 7 days a week, and is free to use. Visitors can also access additional information about the basilica and its history by visiting the website or by following the basilica's social media accounts.
The Historic Basilica Cam is an incredible resource for visitors of all ages. Whether you are a student looking to learn more about the basilica or a traveler wanting to experience the beauty of the site from the comfort of your own home, the online webcam offers an accessible and educational way to explore this incredible site.
Comments
Camera on the map and the Nearest