Grote Markt, Mechelen live webcam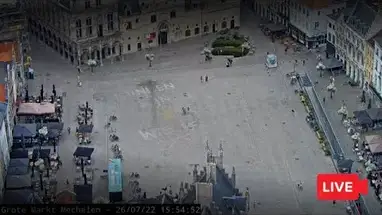 Grote Markt, Mechelen
If you are looking for a beautiful and unique webcam view, then Grote Markt in Mechelen, Belgium is the perfect place to start. Located in the heart of this historic city, Grote Markt is a vibrant square surrounded by stunning architecture and rich in history.
Grote Markt, or Great Market, is the main square in Mechelen, located in the city center. This beautiful square is surrounded by some of the most impressive architecture in the city, including the famous St. Rumbold's Cathedral, the City Hall of Mechelen, and the Renaissance-style town hall. It is a popular spot for tourists and locals alike, as it is the center of many events and festivals throughout the year.
The webcam view from Grote Markt is breathtaking. You can see the grand architecture of the buildings that surround the square, as well as the bustling activity of the square itself. During the day, the bright colors of the buildings and the activity of the people make the Grote Markt an amazing sight to behold. At night, the lights of the buildings and the stars in the sky make the square come alive in a beautiful way.
The webcam view of Grote Markt is a great way to experience this historic city from the comfort of your own home. Whether you are looking for a unique view of the architecture or just want to experience the vibrant culture of Mechelen, the webcam view of Grote Markt is sure to satisfy.
Camera on the map and the Nearest