Ijzerenleen Square, Mechelen live webcam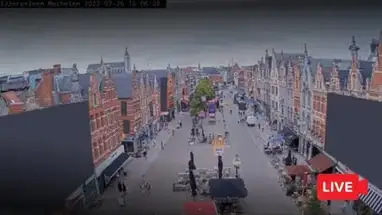 | | |
| --- | --- |
| Status: | Camera is working |
| Country: | Belgium |
| Timezone: | GMT+01:00 |
| Tags: | |
Ijzerenleen Square, Mechelen
Ijzerenleen Square in Mechelen, Belgium, is a beautiful and historic landmark located in the heart of the city. This public square has been an important part of Mechelen's history for centuries and is now one of the top tourist attractions in the city. It is also the site of an online webcam, which allows visitors from around the world to view the square in real time.
The Ijzerenleen Square webcam was installed in late 2018 and is the first of its kind in Belgium. It offers a unique view of the square and its historic buildings, monuments, and statues. Visitors can also get an up-close look at the activities taking place in the square, such as public events, festivals, and markets.
The webcam offers a great way to explore the sights of Mechelen without actually being there. People can view the square at any time of the day or night, and the webcam also captures the changing light throughout the day. People can also get a better sense of the scale of the square and its many monuments and statues.
The webcam is also a great way to stay connected with the city of Mechelen. People can stay up to date on the latest news and events, as well as view the square in real time. This can be especially helpful for people who live far away from the city and don't have the opportunity to visit in person.
Overall, the Ijzerenleen Square webcam is a great way to experience the beauty and history of Mechelen from the comfort of your own home. Whether you're a local or a tourist, you can get a unique view of the city and its culture through this online webcam.
Comments
Camera on the map and the Nearest