New Glasgow Cam, NS live webcam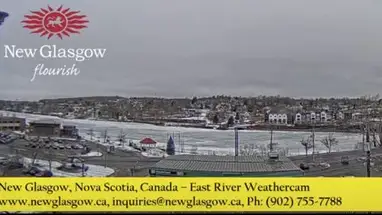 New Glasgow Cam, NS
Live Webcam in New Glasgow, NS, Canada
New Glasgow, Nova Scotia is a small town located in the heart of the Maritimes. It is known for its beautiful scenery, friendly people, and rich maritime culture. With a population of around 10,000, it is the perfect place to explore, relax, and take in the sights. Now, with the help of a live webcam, you can explore New Glasgow from anywhere in the world!
What You Can See on the Webcam
The webcam in New Glasgow is located in the center of town, providing a great view of the area. You can watch boats in the harbor, take in the scenery of the picturesque downtown area, or zoom in to get a closer look at the local attractions. The webcam is also a great way to keep an eye on the weather, as the camera will show you what the weather is like at any given moment.
How to Access the Webcam
The New Glasgow webcam can be accessed through the town's website. All you have to do is go to the homepage and click on the "Live Webcam" link. This will take you to the live webcam page, where you can control the camera's zoom, pan, and tilt. You can also take screenshots of the view and save them for future use.
Things to Do in New Glasgow
New Glasgow is a great place to visit, especially if you're looking for some outdoor activities. There are plenty of trails to explore, as well as beaches, parks, and a variety of cultural attractions. The town is also home to a number of pubs, restaurants, and cafés, perfect for grabbing a bite to eat or a refreshing drink.
Take a stroll along the waterfront.
Go on a nature hike through the nearby trails.
Go swimming at one of the local beaches.
Explore the quaint downtown area.
Visit one of the many museums and galleries.
Try some of the local seafood.
Conclusion
New Glasgow is an amazing place to live or visit, and with the help of the live webcam, it's now easier than ever to explore the area from anywhere in the world. So, if you're ever in the Maritimes, make sure to check out the webcam in New Glasgow, NS. You won't be disappointed!
Webcam on the map and the Nearest