PTZ webcam in Prague live webcam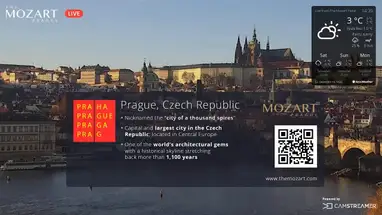 PTZ webcam in Prague
Prague, the beautiful capital of the Czech Republic, is now home to an amazing online webcam PTZ webcam. This webcam is located in the center of the city, and it provides stunning views of the City of a Hundred Spires. The webcam is a great way to experience Prague from afar, as it offers real-time panoramic views of the iconic landmarks and attractions in the city.
The webcam is equipped with an advanced PTZ (pan-tilt-zoom) camera, which allows you to zoom in and out and pan around to get the perfect view. It is capable of capturing stunning images of Prague's world-famous architecture, as well as landscapes, street scenes and natural attractions. The webcam also offers live streaming of events and activities in the city, so you can stay up to date with the latest news and events in Prague.
The webcam is also used by the Czech Republic's tourism industry, as it is a great way to advertise the city and showcase its attractions. Tourists can use the webcam to get a feel for the city before they arrive, and get a taste of the culture, history and beauty of Prague. The webcam is also a great way for locals to stay connected to their city and take in the beauty of Prague from a distance.
The online webcam PTZ webcam in Prague is a great way to experience the beauty of the city from the comfort of your home. Whether you are a tourist visiting Prague or a local looking to stay connected with the city, the webcam is a great way to stay connected and get a stunning view of Prague.
Comments
Camera on the map and the Nearest