Brasov City live webcam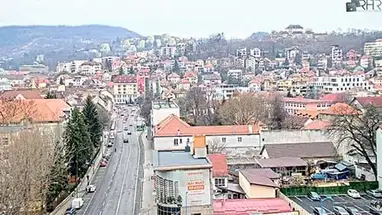 | | |
| --- | --- |
| Status: | Camera is working |
| Country: | Romania |
| Timezone: | GMT+02:00 |
| Tags: | |
Brasov City
Brasov City, located in the heart of Romania, is a vibrant and exciting place to visit. Whether you're looking to explore its rich cultural heritage, its delicious cuisine, or its stunning natural beauty, this city has something to offer everyone. For those who can't make the physical trip, there are now online webcams that allow you to explore the city from the comfort of home.
Brasov City is known for its majestic mountain range and beautiful cobblestone streets, making it a popular tourist destination for those looking to explore Romania. Its cobblestone streets are lined with colorful buildings and monuments, giving visitors a glimpse into the city's past. The city is also home to numerous churches and monasteries, as well as an array of museums and art galleries.
In addition to its stunning scenery, Brasov City also offers plenty of activities for those looking for a more active experience. From hiking and mountain biking to skiing and snowboarding, there's something for everyone to enjoy. The city also boasts a number of parks and gardens, making it the perfect place to relax and take in the beauty of Romania.
If you're looking to explore Brasov City without leaving your home, there are now online webcams that allow you to do just that. These webcams offer a live stream of the city, providing an up-close and personal look at all the city has to offer. You can explore the cobblestone streets, the towering mountains, and the stunning architecture, all without ever having to leave your home.
Whether you're looking to explore the culture, cuisine, or scenery of Brasov City, online webcams are a great way to experience the city from the comfort of your own home. So, if you're looking to experience the beauty and energy of Romania, be sure to check out the online webcams of Brasov City.
Comments
Camera on the map and the Nearest