Parliament Building, Québec live webcam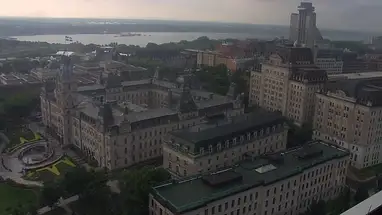 | | |
| --- | --- |
| Status: | Camera is working |
| Country: | Canada |
| Timezone: | GMT-05:00 |
| Tags: | |
Parliament Building, Québec
The Parliament Building of Québec, Canada is one of the most iconic and recognizable landmarks in the world. Built in 1877, the Parliament Building stands as a symbol of democracy, hosting the provincial government of Québec. The building is situated at the top of the hill overlooking the city of Québec, making it a popular destination for both locals and tourists alike.
The Parliament Building is a magnificent structure, with its majestic gothic architecture and impressive interior. Inside, visitors can find the Legislative Assembly, the Senate chamber, and a variety of other rooms and spaces. The building is home to the National Assembly of Québec, which is responsible for the legislative process and governing of the province.
Visitors to the Parliament Building can take in the beauty of the building from the outside, or take part in an interactive tour of the inside. The building is open to the public and tours are offered in both French and English. Visitors can learn about the history of the building, and the role it plays in the province's government.
For those who are unable to visit the Parliament Building in person, there is an online webcam that offers a live view of the building. The webcam is located on the roof of the building, and provides a unique view of the surrounding area. Visitors can see the spectacular views of the St. Lawrence River, the Château Frontenac, and the city of Québec.
The Parliament Building of Québec is an iconic structure and a must-see for anyone visiting the province. With its history, architecture, and interactive tours, it is a great place to explore and learn more about the government and politics of Québec. For those who can't make the trip, the online webcam offers the unique opportunity to view this impressive building from the comfort of their own home.
Comments
Camera on the map and the Nearest