Montmorency Falls Park, QC live webcam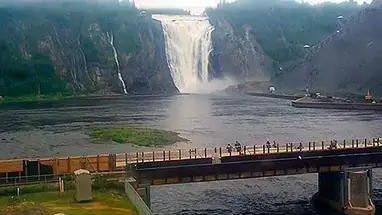 Sorry, the webcam is currently unavailable
| | |
| --- | --- |
| Status: | Webcam isn't working |
| Country: | Canada |
| Timezone: | GMT-05:00 |
| Tags: | |
Montmorency Falls Park, QC
Montmorency Falls Park in Quebec, Canada is a beautiful and unique destination for nature lovers. The park is home to the spectacular Montmorency Falls, a stunning waterfall that is taller than Niagara Falls. The park is located just outside of Quebec City and offers a peaceful and serene atmosphere.
The park is open year-round and offers a variety of activities for visitors to enjoy. In the warmer months, visitors can take advantage of the many hiking trails that wind through the park. The trails offer breathtaking views of the falls and the surrounding area. There are also several lookout points, picnic areas, and outdoor activities, such as fishing and boating, available.
During the winter months, the park offers a unique opportunity to view the falls from the comfort of your own home. Visitors can take in the sights via a live webcam that is located at the top of the falls. The webcam offers a stunning view of the falls and the surrounding landscape. Visitors can also use the webcam to monitor the water levels and watch as the cascading waters create a beautiful mist.
The Montmorency Falls Park also offers educational programs and guided tours. These tours are led by trained professionals who can provide visitors with a wealth of knowledge about the area. The tours typically focus on the history of the falls, the geology of the region, and the surrounding wildlife.
Montmorency Falls Park is an ideal destination for nature lovers who want to experience the beauty of nature in its purest form. The park offers an abundance of activities and educational opportunities, as well as the chance to watch the falls from a live webcam. Whether you are looking for a peaceful and serene escape or an educational experience, Montmorency Falls Park is the perfect place to visit.
Webcam on the map and the Nearest