Narodni Trg Square live webcam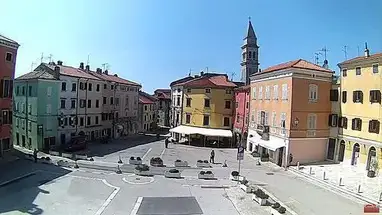 Narodni Trg Square
As tourists flock to Croatia's stunning Adriatic coast, one of the most visited places in the country is the city of Split. Nestled between the sparkling waters of the Adriatic Sea and the rugged Dinaric Alps, Split is a treasure trove of history and culture. One of Split's most famous landmarks is the Narodni Trg Square, a central square located in the historic old town center.
Narodni Trg Square is a beautiful and vibrant public space that is a popular gathering place for both locals and tourists. The square has a rich history that dates back to the Roman era. It was a popular spot for public events, such as festivals and markets, as well as political gatherings. The square is lined with lovely buildings, including the Baroque-style Town Hall and Saint Anthony's Church. The Town Hall has a beautiful facade and a large bell tower, while the interior of Saint Anthony's Church is filled with stunning frescoes and ornate decorations.
Visitors to Narodni Trg Square can enjoy a variety of activities, from people-watching and relaxing in the sunshine to shopping at the many shops and restaurants located in the square. The square is also home to a number of cultural attractions, such as art galleries and museums. On the eastern side of the square, there is also a busy bus station and a large open-air market, which is open every day.
If you can't make it to Narodni Trg Square in person, you can still enjoy all the sights and sounds of the square from the comfort of your own home. Thanks to the live webcam, you can watch the hustle and bustle of the square from anywhere in the world. The webcam offers a stunning view of the square, with its buildings, trees, and people. It's a great way to experience the vibrant atmosphere of the square, without having to leave your own home.
Narodni Trg Square is one of the most popular tourist attractions in Split, and it's easy to see why. The square is a charming and vibrant public space with a lot of history and culture. With its stunning buildings and lively atmosphere, it's easy to see why the square is so popular with visitors. And with the live webcam, you can now enjoy the sights and sounds of the square from anywhere in the world.
Webcam on the map and the Nearest