Lake Erie, Port Dover live webcam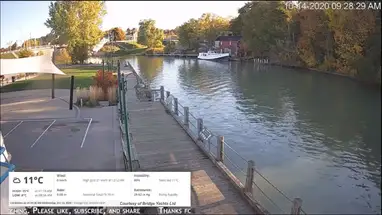 Lake Erie, Port Dover
The stunningly beautiful Lake Erie is a sight to behold, so why not take a virtual tour of it? With the help of a webcam in Port Dover, Canada, you can witness the breathtaking scenery and stunning views of this great lake.
Located in the southernmost tip of Canada, Lake Erie is the fourth largest of the five Great Lakes. It is known for its diverse wildlife, pristine beaches, and crystal clear waters. The lake is surrounded by charming towns and villages that make for a great vacation spot.
Port Dover, located on the northern shore of Lake Erie, is a popular spot for tourists. It's known for its vibrant art scene, excellent restaurants, and delicious local seafood. The harbor is full of fishing boats and recreational vessels, and the nearby beaches are perfect for swimming and sunbathing.
With the help of the online webcam in Port Dover, you can get a glimpse of this stunning lake. The webcam is located at the end of the pier, so you can take in the gorgeous views of the lake and its surrounding areas. The webcam also captures stunning sunrises and sunsets, as well as the activity on the harbor.
If you're looking for an amazing experience, head to the webcam in Port Dover to experience the beauty of Lake Erie. From the comfort of your own home, you can witness the stunning sights and sounds of this great lake. So why not take a virtual tour today? You won't be disappointed!
Camera on the map and the Nearest