Oostende Beach live webcam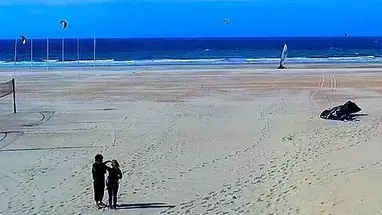 Oostende Beach
Located on the coast of the North Sea, Ostend Beach in Belgium is one of the top tourist destinations for beachgoers in the country. With its sandy beaches, stunning views, and abundance of activities, Ostend Beach is the perfect spot to enjoy a day of sun and sand.
Ostend Beach offers a variety of activities for visitors to enjoy. Whether you're looking to relax, take part in watersports, or explore the nearby attractions, there's something for everyone to enjoy. The beach is equipped with beach volleyball courts, a children's playground, and even an outdoor cinema. Visitors can also enjoy a variety of watersports, such as surfing, paddle boarding, and windsurfing. For those looking to explore the area, there are a number of interesting sites located nearby, including the historic Fort Napoleon and the Museum of the Sea.
The beach itself is equipped with a beautiful view of the North Sea and is lined with restaurants, cafes, and shops. Visitors can also take advantage of the nearby webcam, which offers a live stream of the beach. This is the perfect way to get a glimpse of the area without having to be there in person.
Ostend Beach is a popular destination for both locals and tourists alike. Whether you're looking for a relaxing day in the sun or an exciting day of adventure, Ostend Beach has something to offer everyone. With its stunning views, abundance of activities, and convenient accessibility, Ostend Beach is the perfect spot to enjoy a day at the beach.
Comments
Camera on the map and the Nearest