Anemos Beach Club, Knokke-Heist live webcam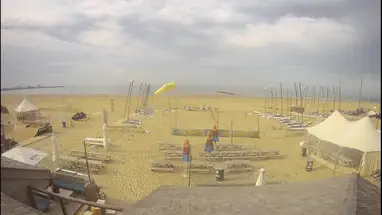 Anemos Beach Club, Knokke-Heist
In the bustling coastal town of Knokke-Heist, Belgium, Anemos Beach Club stands out as a one-of-a-kind attraction. With its stunning views of the North Sea and its unique collection of activities, Anemos Beach Club has become a favorite destination for locals and tourists alike. Whether you're looking for a spot to relax and take in the sights or a place to let loose and have some fun, Anemos Beach Club has it all.
One of the most popular features of Anemos Beach Club is its online webcam. The webcam provides a live stream of the beach and the surrounding area, allowing visitors to get a taste of the area before they arrive. The webcam also offers a unique view of the beach, allowing visitors to spot their favorite activities or check out the scenery from different angles.
The webcam also allows visitors to check out the activities and events that take place at Anemos Beach Club. From beach volleyball games to live DJs, the webcam can give viewers a glimpse of all the fun that awaits them. It's also a great way to get a sneak peek at some of the new attractions that are being added to the beach club.
In addition to its webcam, Anemos Beach Club also offers a wide range of activities and amenities for visitors. From beach volleyball to sun loungers, the club has something for everyone. Visitors can also take advantage of the club's full-service bar and restaurant, which offers a variety of delicious meals and drinks.
Anemos Beach Club is the perfect place to relax and enjoy the sunny weather in Knokke-Heist. With its beautiful views and its unique activities, it's no wonder why Anemos Beach Club has become such a popular destination. And with its online webcam, visitors can get a taste of the club before they arrive.
Comments
Camera on the map and the Nearest