Camping Waalstrand, Gendt live webcam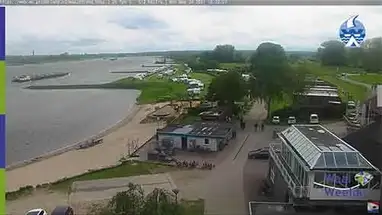 | | |
| --- | --- |
| Status: | Camera is working |
| Country: | Netherlands |
| Timezone: | GMT+01:00 |
| Tags: | |
Camping Waalstrand, Gendt
If you're looking for a unique camping experience in the Netherlands, then look no further than Camping Waalstrand in Gendt. Located in the stunning province of Gelderland, this family-run camping site is an ideal spot for a relaxing getaway.
To start with, the campsite itself is situated on the banks of the Waal river, providing stunning views of the surrounding countryside. The area is well known for its natural beauty and is the perfect spot for a peaceful and tranquil camping holiday. There's plenty of room for tents, caravans and motorhomes, as well as permanent accommodation for those who prefer a more permanent set up.
On-site, you can take advantage of the various amenities and activities that Camping Waalstrand has to offer. The camping site boasts an outdoor pool and a small beach, perfect for swimming and sunbathing in the summer months. Other than that, there are plenty of activities to keep you occupied such as bike rental, fishing, mini golf and a playground for kids.
If you're looking for an even more unique experience, then be sure to check out the live webcam. Located on the edge of the campsite, the webcam offers a live feed of the campsite and the surrounding area. This is a great way to get an overview of the campsite and to see what's going on during your stay.
All in all, Camping Waalstrand is a great spot for a peaceful and relaxing camping experience. With its stunning views and plenty of activities, this is the perfect spot to get away from it all. So, why not treat yourself to a camping holiday in the Netherlands and check out Camping Waalstrand in Gendt?
Comments
Camera on the map and the Nearest