Amersfoort City live webcam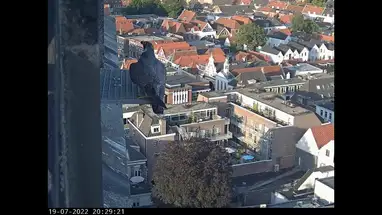 | | |
| --- | --- |
| Status: | Camera is working |
| Country: | Netherlands |
| Timezone: | GMT+01:00 |
| Tags: | |
Amersfoort City
Amersfoort City, Netherlands is a city known for its vibrant and diverse culture, welcoming people from all over the world. With its rich history, stunning architecture, and unique atmosphere, it's no wonder that Amersfoort City is a popular tourist destination. Recently, the city has become even more accessible with the introduction of online webcam Amersfoort City. This webcam offers visitors a glimpse into the culture and lifestyle of this beautiful city without having to leave the comfort of their own homes.
The webcam provides a live feed of Amersfoort City, so that visitors can get a real-time view of the city's streets and canals. The camera also captures various events throughout the city, such as festivals, markets, and street performances. When the sun sets, the camera captures the city's nightlife, giving viewers a unique perspective on the city's after-dark activities.
The webcam also provides a more interactive experience, allowing viewers to interact with each other by creating their own video messages. This feature allows people to connect with each other and express their thoughts, feelings, and experiences of the city.
The city of Amersfoort is also home to many interesting attractions, such as museums, art galleries, and parks. With the webcam, visitors can get a closer look at the city's attractions and get a better understanding of the area.
Overall, the online webcam Amersfoort City is an excellent way for people to explore the city without having to leave their homes. With its live feed and interactive features, it's a great way to get to know the city and its culture.
Comments
Camera on the map and the Nearest