Courthouse Square, Santa Rosa live webcam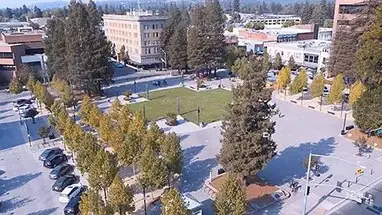 | | |
| --- | --- |
| Status: | Camera is working |
| Country: | United States |
| Timezone: | GMT-08:00 |
| Tags: | |
Courthouse Square, Santa Rosa
The Courthouse Square in Santa Rosa, California is a popular destination for locals and visitors alike. Situated in the heart of downtown Santa Rosa, the square is home to a variety of shops, restaurants, and entertainment venues. It is also a popular spot for online webcam viewers, as it provides a fascinating view of the bustling city life.
The Courthouse Square is a historic landmark in Santa Rosa, as it is the site of the Santa Rosa County Courthouse. Built in 1879, the courthouse is a classic example of Renaissance Revival architecture. It was built with a three-story bell tower and is still the tallest building in Santa Rosa. The courthouse is a popular tourist attraction and a great photo opportunity for those wishing to capture the beauty of the city.
The Courthouse Square is a great spot for people watching, as it is a hub of activity. On any given day, you can find people from all walks of life gathered in the square. There are street performers, musicians, and vendors selling their wares. The square is also a popular spot for festivals and events, such as the annual Santa Rosa County Fair.
Viewers of the online webcam can catch a glimpse of the everyday activities taking place in the Courthouse Square. The webcam captures the hustle and bustle of the square, with its lively atmosphere. There is always something going on, from the street performers entertaining onlookers to the vendors selling their wares.
The Courthouse Square webcam provides an interesting and entertaining look at the lively city life in Santa Rosa. It is a great way to experience the city without having to leave the comfort of home. Whether you are a local or a visitor, the online webcam is a great way to get a glimpse of the vibrant energy of the Courthouse Square.
Comments
Camera on the map and the Nearest