Webcam of the «Crystal» hotel in Koblevo, Ukraine live webcam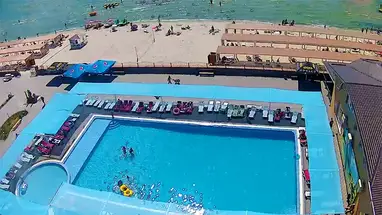 Sorry, the camera is currently unavailable
| | |
| --- | --- |
| Status: | Camera isn't working |
| Country: | Ukraine |
| Timezone: | GMT+03:00 |
| Tags: | |
Webcam of the «Crystal» hotel in Koblevo, Ukraine
Welcome to the beautiful town of Koblevo, Ukraine, home to the luxurious "Crystal" hotel. Situated on the Black Sea coast, this hotel offers its guests stunning views of the horizon and luxurious accommodations. To make the stay even more enjoyable, guests can now enjoy the convenience of the hotel's online webcam.
The online webcam of the "Crystal" hotel in Koblevo, Ukraine provides guests with a real-time view of the Black Sea. From the comfort of their own home or hotel room, guests can watch the waves crashing onto the shoreline and the beautiful sunsets over the horizon. During the day, the webcam allows guests to watch the boats sailing in and out of the harbor, as well as the amazing variety of birds that call the area home.
At night, the webcam provides a stunning view of the stars that come out to light up the sky. With the help of the webcam, guests can take in the beauty of the night sky and all the stars that are visible. In addition to the stunning views of the night sky, the webcam also provides a glimpse into the bustling life of the town of Koblevo. Guests can watch the pubs and restaurants along the beach, as well as the boardwalk that runs along the beach.
The webcam of the "Crystal" hotel in Koblevo, Ukraine is a convenient way for guests to enjoy the beauty of the Black Sea without having to leave the comfort of their rooms. With the webcam, guests can enjoy the breathtaking views of the sea and the night sky and take in the hustle and bustle of the town of Koblevo. Whether you are looking for a relaxing holiday or a chance to experience the beauty of Ukraine, the "Crystal" hotel webcam is the perfect way to experience it all.
Camera on the map and the Nearest