Webcam on Deribasovskaya Street in Odessa live webcam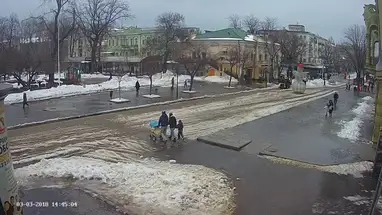 Sorry, the webcam is currently unavailable
| | |
| --- | --- |
| Status: | Webcam isn't working |
| Country: | Ukraine |
| Timezone: | GMT+03:00 |
Webcam on Deribasovskaya Street in Odessa
Deribasovskaya Street in Odessa, Ukraine, is one of the most famous streets in the city. Spanning over a kilometer, the street is home to many of the city's most iconic landmarks, including the Odessa Opera House, Potemkin Steps, and the Primorsky Boulevard. It is also a major tourist attraction, drawing thousands of visitors each year.
Now, thanks to a new online webcam, visitors can experience the street without ever having to leave the comfort of their own home. The webcam, which is located on the roof of the nearby Hotel Bristol, offers a stunning view of the street and its many famous landmarks. The camera is timed to automatically update every 15 minutes, ensuring that visitors always have a fresh, up-to-date look at Deribasovskaya Street.
The webcam also allows viewers to take a virtual tour of the street. As the camera pans across the street, viewers can see the Potemkin Steps, the Odessa Opera House, and the Primorsky Boulevard. From the camera's vantage point, viewers can also spot the famous monument to Duke de Richelieu, which stands at the intersection of Deribasovskaya and Pushkinskaya Streets.
In addition to the stunning views, the Deribasovskaya Street webcam also allows visitors to listen to live music from the surrounding area. Every evening, the street comes alive with the sounds of street musicians, giving viewers a unique insight into the city's vibrant culture.
With its stunning views and live music, the Deribasovskaya Street webcam is the perfect way to experience the beauty of Odessa from anywhere in the world. Whether you're planning a visit to the city or just want to take in the sights from the comfort of your home, the webcam is the perfect way to explore the beauty of Deribasovskaya Street.
Webcam on the map and the Nearest