Webcam on the Greek square in Odessa live webcam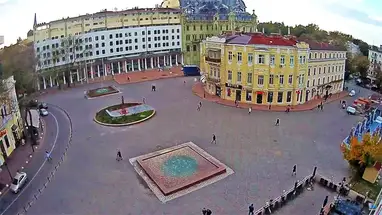 Sorry, the camera is currently unavailable
| | |
| --- | --- |
| Status: | Camera isn't working |
| Country: | Ukraine |
| Timezone: | GMT+03:00 |
Webcam on the Greek square in Odessa
Are you looking to experience a little piece of the Mediterranean in the heart of Ukraine? Then you need to check out Odessa's Greek square! This picturesque destination is home to numerous attractions, including an online webcam that allows you to take in the sights and sounds of the square from the comfort of your own home.
The Greek square is one of the most popular squares in Odessa, not only for its beautiful architecture and historical monuments, but for its vibrant nightlife. In the summer, the square is home to a variety of street performers, musicians, and vendors selling souvenirs and food. This lively atmosphere can be seen from the online webcam, which is located on the corner of the square and offers a stunning view of the entire area.
The webcam also allows you to take in some of the main attractions located in the area. These include the statue of the Greek goddess Ofelia, which is the centerpiece of the square, and the St.Nicholas Cathedral, which is a stunning example of Byzantine architecture. Additionally, the webcam allows you to take in the stunning views of the Black Sea, which is just a few blocks away.
If you're looking to get a better feel for the atmosphere of the Greek square, there are plenty of online videos and photos available online. Many of these videos and photos are taken from the same webcam that you can view online, giving you an even better sense of the area.
So if you're looking for a unique way to experience the Mediterranean in the heart of Ukraine, then you need to check out the online webcam on the Greek square in Odessa. With its stunning views and vibrant atmosphere, you'll be sure to have an unforgettable experience!
Camera on the map and the Nearest