Nemo Hotel, Cape Lageron live webcam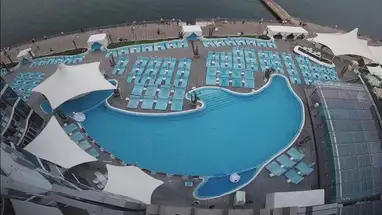 | | |
| --- | --- |
| Status: | Camera is working |
| Country: | Ukraine |
| Tags: | |
Nemo Hotel, Cape Lageron
Nemo Hotel, located in Cape Lageron, Ukraine, is an online webcam hotel that offers an unforgettable stay in the comfort of your home. With panoramic views of the Black Sea, Nemo Hotel is the perfect destination for a relaxing holiday.
The hotel is equipped with high-end amenities such as free Wi-Fi, air-conditioning, and a large flat-screen TV with cable channels. Guests can also enjoy their own private balcony with views of the sea. For convenience, there is a 24-hour reception desk, a café, and a restaurant.
The hotel also features a wide range of activities to keep guests entertained. Guests can enjoy water sports such as kayaking and sailing, or take part in an array of land-based activities like horseback riding and mountain biking. For those who want to experience more of the local culture, Nemo Hotel offers cultural tours and city sightseeing tours.
The hotel also offers a unique webcam feature. Guests can watch the Black Sea from the comfort of their hotel room, or take part in live broadcasts of local events. Guests can also enjoy a range of online activities such as online gaming, online shopping, and online streaming.
Nemo Hotel is the perfect place for a relaxing holiday or a romantic getaway. It offers a luxurious experience with breathtaking views of the Black Sea and a range of amenities to make your stay comfortable and enjoyable. With its webcam feature and a range of activities, Nemo Hotel is sure to make your stay in Cape Lageron unforgettable.
Comments