Lamai Walking Street Webcam, Samui, Thailand live webcam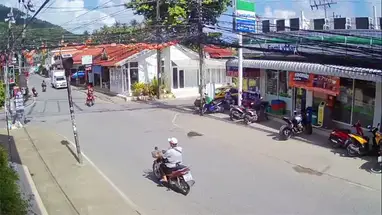 Lamai Walking Street Webcam, Samui, Thailand
If you're looking for a great way to experience the beauty of Lamai Walking Street in Samui, Thailand, then you should check out the online webcam. This webcam gives you a front row seat to all the action in this popular tourist destination. You can watch as locals and visitors alike wander the streets, explore the many shops and restaurants, or simply take in the stunning scenery.
Lamai Walking Street is one of the most popular areas in Samui, and it's easy to see why. This bustling street is lined with colorful shops, vibrant restaurants, and plenty of street vendors offering traditional Thai dishes. There's something for everyone here, whether you're looking for souvenirs, a quick snack, or just a leisurely stroll.
The online webcam allows you to experience all the sights and sounds of Lamai Walking Street from the comfort of your own home. The view from the webcam is stunning, and you can easily spot the many different attractions on the street, including the famous Big Buddha statue, the colorful fruit stands, and the rows of bars and restaurants.
The webcam also offers a great view of the beach, which is just a short walk away. The glistening waters of the Gulf of Thailand are the perfect backdrop for a relaxing stroll or a day of swimming and sunbathing.
The online webcam provides an up-close look at the hustle and bustle of Lamai Walking Street, giving you a true sense of the experience without having to be right there. It's a great way to get a taste of the culture and atmosphere of this vibrant area without having to leave your home. So, if you're looking for a unique way to explore Lamai Walking Street, be sure to check out the online webcam.
Comments
Camera on the map and the Nearest