Sagrada Familia, Barcelona live webcam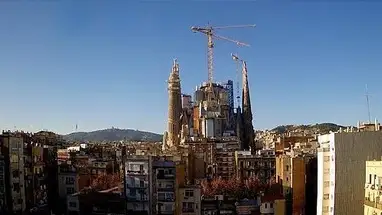 Sagrada Familia, Barcelona
The Sagrada Família, located in Barcelona, Spain, is a spectacular basilica and a major tourist attraction. The construction of this iconic structure began in 1882 under the direction of the renowned Catalan architect, Antoni Gaudí. The basilica is now a UNESCO World Heritage Site and is visited by millions of people every year.
The Sagrada Família is an impressive example of Gothic and Art Nouveau architecture. Its main facade, the Nativity Facade, features a combination of religious and secular elements. The entrance is decorated with scenes from the life of Jesus and is considered one of Gaudí's greatest achievements. The interior of the basilica is equally impressive, featuring ornate columns, stained glass windows, and intricate carvings.
Thanks to the internet, it is now possible to view the Sagrada Família from the comfort of your own home. There are several online webcams that offer stunning views of the basilica. These webcams provide a unique experience, as they allow you to view the basilica from different angles and get a better understanding of its architecture.
The webcams also offer a great way to explore the surrounding area. The basilica is located in the heart of Barcelona, and the webcams provide an up-close look at some of the city's most famous landmarks. From the webcams, you can see the Plaza de Catalunya, the Arc de Triomf, and the Parc de la Ciutadella, among other attractions.
No matter where you are in the world, the webcams of the Sagrada Família provide a unique way to experience one of the most iconic structures in Barcelona. Whether you're a student of architecture or just a curious traveler, the webcams offer a great way to explore this stunning basilica.
Webcam on the map and the Nearest