Geldingadalir Volcano, Iceland live webcam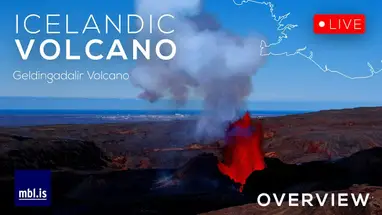 Geldingadalir Volcano, Iceland
Iceland's Geldingadalir Volcano is one of the most active volcanoes in the country, and one of the most spectacular sights you can witness online. With its ever-changing landscape of lava, steam, and ash, the volcano is both awe-inspiring and a reminder of the power of nature.
Fortunately, thanks to modern technology, you can now witness the raw beauty of the Geldingadalir Volcano from the comfort of your own home. Thanks to several webcams placed around the volcano, you can observe its activity from anywhere in the world.
The webcams offer an amazing view of the volcano and the surrounding landscape. The cameras capture stunning images of the molten lava flowing down the mountain's slopes and the plumes of steam and ash rising up into the sky. You can even see the brilliant red glow of the lava at night, as it casts an eerie light over the area.
But the webcams don't just capture the beauty of the volcano. They also provide scientists with invaluable data on the volcano's activity, which they use to monitor the volcano's behavior and alert the public in the event of an eruption.
The webcams are also used to keep an eye on the local wildlife, which includes a variety of birds, foxes, and even reindeer. The cameras capture images of these animals in their natural habitat, providing a fascinating insight into the lives of some of Iceland's most beloved creatures.
So, if you're looking for an amazing view of one of the world's most active volcanoes, why not take a virtual tour of Geldingadalir Volcano with one of the webcams? With its ever-changing landscape of lava, steam, and ash, it's sure to be an unforgettable experience.
Camera on the map and the Nearest