Paleo Faliro Beach Webcam, Athens, Greece live webcam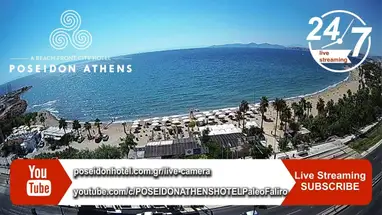 Paleo Faliro Beach Webcam, Athens, Greece
Few places in the world can match the beauty of Paleo Faliro Beach in Athens, Greece. With its white sand, crystal-clear waters, and stunning scenery, it's no wonder that visitors from all over the world flock to this beach each year.
Now, thanks to the online webcam at Paleo Faliro Beach, you can experience the beauty of this popular destination from the comfort of your own home.
The Paleo Faliro Beach webcam offers live streaming of the beach and surrounding area. You can witness the ever-changing beauty of the beach, including the nearby mountains and the horizon of the nearby city. The webcam also captures the lively beach atmosphere, with people sunbathing, swimming, and enjoying the warm Mediterranean sun.
The webcam also offers an up-close look at the stunning Paleo Faliro Beach. From the crystal-clear waters to the white sand beaches, you can experience the beauty of this beach and its surroundings. Plus, the webcam is available 24 hours a day, so you can immerse yourself in the beach's beauty at any time.
The online webcam at Paleo Faliro Beach is an invaluable resource for anyone wanting to experience the beauty of Athens, Greece. Whether you're planning a trip or just want to enjoy the view, the webcam provides an up-close look at one of the most popular beaches in the world.
Comments
Camera on the map and the Nearest