Paleo Faliro Beach live webcam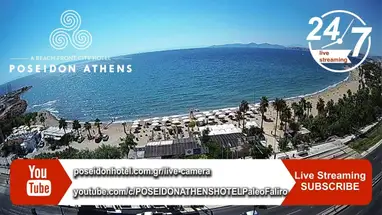 Paleo Faliro Beach
Paleo Faliro Beach is a stunning beach located in the southern part of Athens, Greece. This beach is a great spot for travelers looking to experience the beauty of Greece while also having the opportunity to connect with the culture and the people of the area.
The beach itself is a large, sandy beach that stretches along the coast of the Aegean Sea. It is a popular spot for locals, who come to soak up the sun and swim in the crystal-clear waters. Here, you can find many activities to enjoy including swimming, kayaking, snorkeling, and windsurfing. The beach also has a wide selection of restaurants, cafes, and bars, making it the perfect spot for a romantic evening or a night out with friends.
The best part of Paleo Faliro Beach is its webcam. This webcam is located on the beach and offers a live view of the beach, the sea, and the surrounding area. This webcam allows people from all over the world to experience the beauty of the beach from the comfort of their own home. The webcam also offers a great way to spot some of the wildlife that inhabits the area, such as sea turtles, dolphins, and seagulls.
The webcam can also be used to view the amazing sunsets and sunrises that occur in this part of Greece. With the webcam, you can get the full experience of Greece without ever having to leave your home.
If you're looking for an unforgettable experience, then consider visiting Paleo Faliro Beach and view its webcam. You won't be disappointed!
Comments
Camera on the map and the Nearest