Blue Mountain Resort live webcam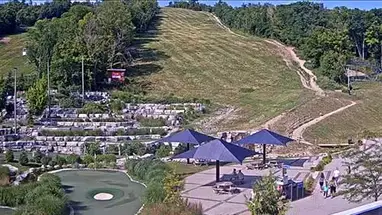 | | |
| --- | --- |
| Status: | Camera is working |
| Country: | Canada |
| Timezone: | GMT-05:00 |
| Tags: | |
Blue Mountain Resort
Blue Mountain Resort, located in Ontario, Canada, is a popular destination for outdoor enthusiasts and winter lovers alike. With its breathtaking views, world-class skiing and snowboarding, and vibrant nightlife, it's no wonder why so many people choose to visit the resort year after year.
But what if you don't have the time or the money to make the trip to Ontario? Well, thanks to modern technology, you can now experience Blue Mountain Resort from the comfort of your own home. That's right, you can now take in the stunning views of Blue Mountain Resort right through your computer screen with the help of an online webcam.
The webcam, which is set up at the resort's main ski hill, offers an up-close and personal look at all the action taking place on the slopes. You can watch as skiers and snowboarders make their way down the mountain, or you can even check out the snow conditions before your own trip to Blue Mountain.
In addition to the views from the ski hill, the webcam also offers a glimpse into the lifestyle that the resort has to offer. From the cozy chalets and cabins, to the lively bars and restaurants, you can get a taste of the vibrant nightlife that Blue Mountain is known for.
So, if you're looking for a way to experience Blue Mountain Resort without actually having to make the trip, an online webcam is the perfect solution. You can take in the breathtaking views of the slopes, check out the snow conditions, and get a feel for the resort's vibrant nightlife, all from the comfort of your own home.
Comments
Camera on the map and the Nearest