Kidderminster Station Cam live webcam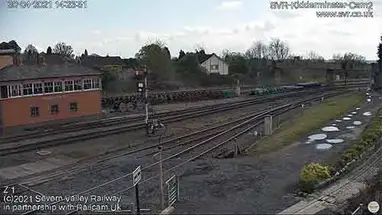 Kidderminster Station Cam
Kidderminster Station Cam, United Kingdom is a great way to stay connected with the local area while you're away. Located in the West Midlands, this webcam provides a real-time view of the hustle and bustle of the station, giving visitors a glimpse into the daily life of this busy station.
The webcam is positioned to capture the entrance of the station, as well as the surrounding area. You can see the people coming and going, the trains arriving and departing, and the people waiting to board. The webcam is also equipped with night vision, allowing you to view the station even after dark.
The Kidderminster Station Cam is updated every ten minutes, giving the viewer the opportunity to stay up to date on the activity at the station. The webcam also has audio, allowing viewers to hear the hustle and bustle of the station as well.
In addition to the real-time views of the station, the webcam also provides historical views of the area. Viewers can switch between the live and archived images to get a better understanding of how the station has changed over time.
Kidderminster Station Cam is a great way to stay connected to the local area, regardless of where you are. Whether you're off on vacation or just want to keep an eye on the station while you're away, the webcam provides a great view of the station that can't be missed.
Camera on the map and the Nearest