Weather Cams Carinthia live webcam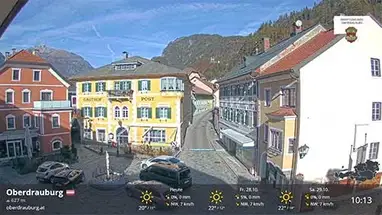 Weather Cams Carinthia
The beautiful landscapes of Carinthia, Austria are now available for you to view in real-time with the help of online webcam weather cams. Located in the southernmost Austrian state, Carinthia is a popular destination for travelers and nature lovers alike. With its stunning mountain views, crystal clear lakes, and unique wildlife, Carinthia is the perfect destination for anyone seeking to get away from it all.
The webcam weather cams in Carinthia provide up-to-date and real-time images of the region's beautiful landscape. With the help of these cams, you can check out the current weather conditions in Carinthia, as well as other important information such as temperature, cloud cover, and wind speeds. You can also get a glimpse of the area's popular attractions such as the Grossglockner and the Grossglockner High Alpine Road, the two highest roads in the Alps.
These webcam weather cams are a great way to stay connected to Carinthia while you're away. You can use the cams to get an idea of what the weather is like in the area and plan your outdoor activities accordingly. These cams also provide a great opportunity to view the spectacular landscapes of Carinthia and witness the region's unique wildlife in their natural habitat.
The webcam weather cams in Carinthia are a great way to experience the beauty of Austria's southernmost state. Whether you're planning a vacation or just want to get a glimpse of this amazing region, these cams will give you an up close look at the stunning landscapes and unique wildlife of Carinthia. So, don't wait any longer and start exploring Carinthia today with the help of online webcam weather cams!
Camera on the map and the Nearest