Friday Flat, Thredbo live webcam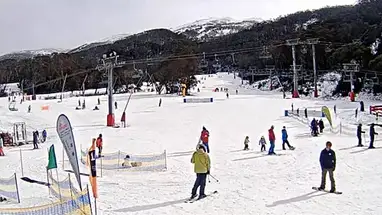 Sorry, the camera is currently unavailable
| | |
| --- | --- |
| Status: | Camera isn't working |
| Country: | Australia |
| Timezone: | GMT+10:00 |
| Tags: | |
Friday Flat, Thredbo
Nestled in the heart of the Snowy Mountains, Friday Flat, Thredbo is an idyllic ski village in Australia's southeastern region. It's the perfect destination for those who love to ski, snowboard, or just soak in the stunning alpine scenery.
With its world-renowned slopes and terrain, Thredbo is one of the most popular ski destinations in Australia. Whether you're a beginner or an expert skier, there's something here for everyone. The village itself is a hub of activity with plenty of restaurants, shops, and activities to keep you entertained.
But if you can't make it to Thredbo in person, don't worry. You can still experience the beauty of the area from the comfort of your own home. Thanks to the online webcam service, Friday Flat, Thredbo, Australia, you can now watch a live feed of the slopes in real time.
The webcam service offers an interactive 360-degree view of the area, allowing you to get a full appreciation of the stunning alpine scenery. You can watch live footage of the slopes, and even have a look at the village centre. You can also check out the current weather conditions and snow reports, as well as get up-to-date information on the area's ski schools and other activities.
For those looking to plan their next ski trip, the online webcam service can provide an invaluable resource. Not only can you get a better understanding of the terrain, but you can also get a feel for the village before you even arrive.
So if you're looking for a winter getaway, why not check out Friday Flat, Thredbo, Australia. With its stunning alpine scenery, world-renowned ski slopes, and online webcam service, you'll be sure to have an unforgettable experience.
Camera on the map and the Nearest