Middle Rhine Valley Cam, Germany live webcam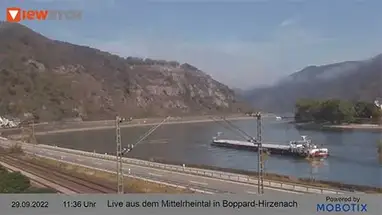 | | |
| --- | --- |
| Status: | Webcam is working |
| Country: | Germany |
| Timezone: | GMT+01:00 |
| Tags: | |
Middle Rhine Valley Cam, Germany
If you're looking to experience a beautiful European landscape without leaving the comfort of your home, then the Middle Rhine Valley Cam in Germany is the perfect destination for you. Located in the Rhineland-Palatinate state, the Middle Rhine Valley Cam provides stunning views of the river valley.
The Middle Rhine Valley is a UNESCO World Heritage Site due to its unique cultural landscape and its architectural monuments. This area is home to many castles and fortresses, including the Burg Eltz and Marksburg Castle, as well as numerous vineyards, romantic towns, and majestic landscapes.
Viewers will be able to appreciate the stunning views of the Rhine Valley from the webcam. During the day, the view provides a breathtaking panorama of the valley, with its rolling hills and vineyards in the distance. As the sun sets, the landscape becomes even more dramatic, with the lights of the villages and castles twinkling in the distance.
The webcam also captures the Middle Rhine Valley region's rich cultural heritage. Just by looking at the webcam, viewers can appreciate the region's traditional architecture, with the many castles and fortresses that line the river valley. They can also spot the distinctive vineyards that are so integral to this region's culture and economy.
The Middle Rhine Valley Cam is an excellent way to experience this stunningly beautiful region without leaving your home. Whether you're looking for a romantic getaway or just some time to appreciate the beauty of nature, the Middle Rhine Valley Cam is the perfect destination.
Webcam on the map and the Nearest