Bald Eagles Nest Webcam, Pittsburgh, PA live webcam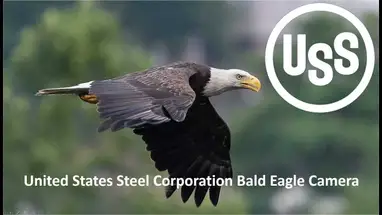 | | |
| --- | --- |
| Status: | Camera is working |
| Country: | United States |
| Timezone: | GMT-05:00 |
| Tags: | |
Bald Eagles Nest Webcam, Pittsburgh, PA
The bald eagles of Pittsburgh, Pennsylvania have become a beloved symbol of the city, and now you can watch them and their nest up close with the online bald eagle nest webcam. This live streaming feed is hosted by the Audubon Society of Western Pennsylvania and provides viewers with an intimate look into the lives of bald eagles nesting in the city.
The webcam is located in the Hays section of the city, just off the Monongahela River. It offers an amazing view of the nest, giving you the opportunity to watch the bald eagles as they construct their nest, feed their young, and take flight. As the birds go about their daily routines, viewers can see the beauty and power of these majestic creatures up close.
The webcam also offers educational opportunities. As viewers watch the bald eagles, they can learn more about their behavior and mating habits. The website also provides information about the birds and their habitat, making it an ideal resource for those interested in wildlife and conservation.
In addition to providing a great viewing experience, the bald eagle nest webcam also helps to protect the birds. The Audubon Society of Western Pennsylvania works to protect the birds and their habitat, and the webcam serves as an effective tool in this effort. The presence of the camera helps to deter potential predators and human disturbance, allowing the birds to nest in peace.
The bald eagle nest webcam is an incredible resource for those who want to watch bald eagles in their natural habitat. Whether you're a bird enthusiast or just curious about these majestic creatures, this webcam provides an amazing opportunity to get an up close look at the beautiful birds of Pittsburgh.
Camera on the map and the Nearest