PTZ webcam of the water park «Lebyazhy», Minsk live webcam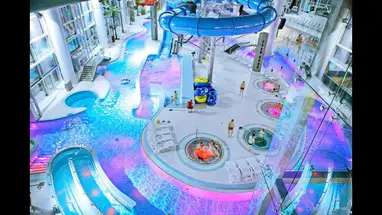 | | |
| --- | --- |
| Status: | Camera is working |
| Country: | Belarus |
| Timezone: | GMT+03:00 |
| Tags: | |
PTZ webcam of the water park «Lebyazhy», Minsk
Nestled in the heart of Minsk, Belarus, the Lebyazhy Water Park is a premier destination for fun and relaxation. With its stunning architecture, lush landscape, and vast array of activities, it's no surprise that the park is the go-to spot for locals and tourists alike. But what makes Lebyazhy truly stand out from the rest is its online webcam PTZ webcam. With the help of this technology, visitors can enjoy a live, first-person view of the park as they make their way around the grounds.
The webcam is located just above the main entrance, giving visitors a clear, panoramic view of the entire park. From the lush green trees that line the pathways to the colorful slides and rides, everything can be seen in real-time. It's a great way to get a feel for the park before even stepping foot inside.
The webcam also features a PTZ function, allowing users to move the camera up, down, left, and right. This allows them to get up close and personal with the park's attractions. Whether it's zooming in on the lazy river or panning around to get a better view of the wave pool, the PTZ function makes it easy to explore the park from the comfort of home.
The webcam also has its own control panel, allowing users to adjust the camera's settings. This includes the ability to adjust the brightness, contrast, and even switch to night vision. With these features, the webcam can be used at any time of day, ensuring visitors never miss out on the park's beauty.
The online webcam PTZ webcam of Lebyazhy Water Park is an amazing tool that allows visitors to get a better idea of the park before they even arrive. With its stunning views, panoramic shots, and PTZ functions, it's no wonder the park has become a favorite destination for locals and tourists alike.
Camera on the map and the Nearest