Tennis Club Lomnice nad Popelkou live webcam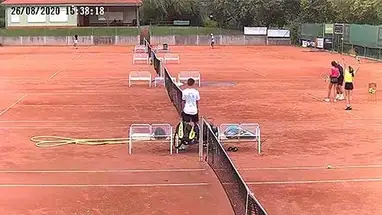 Tennis Club Lomnice nad Popelkou
Tennis fans across the Czech Republic are in for a treat with the new online webcam Tennis Club Lomnice nad Popelkou, located in the picturesque city of Lomnice nad Popelkou. With its state-of-the-art facilities, stunning views and unbeatable atmosphere, this tennis club is set to become the go-to destination for tennis lovers from all around the country.
The club is located on the banks of the Popelka River and offers a wide range of activities for tennis players of all levels. From beginner clinics and group coaching sessions to competitive matches and tournaments, there's something for everyone at the Tennis Club Lomnice nad Popelkou.
The online webcam service offered by the club is the cherry on top for avid tennis fans. With a 360-degree view of the courts, you can watch the action unfold as though you were right there on the court! Whether you're looking for a competitive match or just want to watch a few games, the webcam system is the perfect way to keep up with all the action.
The club also offers a number of social activities and events, such as BBQs and parties. The club's friendly atmosphere makes it the perfect place to meet new people and make friends.
The Tennis Club Lomnice nad Popelkou is setting a new standard for tennis clubs in the Czech Republic. With its modern facilities and online webcam service, it's the perfect destination for anyone who wants to get involved in the exciting world of tennis.
Webcam on the map and the Nearest