North Regina Cam, SK live webcam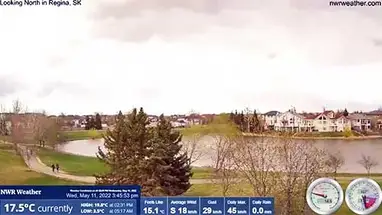 North Regina Cam, SK
The North Regina Cam, in Saskatchewan, Canada, is an online webcam that has become an essential part of everyday life for many people. It captures stunning views of the city and its surroundings, providing a unique and unparalleled perspective of the area.
The North Regina Cam is located on the banks of Wascana Creek and has a view of the Wascana Centre and the downtown skyline of Regina. The camera is positioned at an excellent vantage point, giving viewers an amazing view of all the activity in the city. From the camera, you can see the bustling downtown core, the beautiful parks, and the majestic river.
The camera provides a live stream of the area, giving viewers a real-time look at the city. The camera is also equipped with night-vision capabilities, so viewers can see what is going on even when it is dark outside. This feature makes the North Regina Cam a great tool for night-time surveillance.
The North Regina Cam is also a great way to experience the culture and history of the city. It captures a unique look at the many historical monuments, buildings, and sites in the area. It also provides a look at the local wildlife, allowing viewers to catch a glimpse of some of the area's most beautiful creatures.
The North Regina Cam is an invaluable tool for anyone interested in exploring the city. It provides an up-close and personal view of the area, allowing viewers to experience the city from a unique perspective. It also serves as a great source of entertainment, giving viewers the opportunity to watch the city come alive.
Whether you are looking for a unique view of the city or just want to take a peek at the local wildlife, the North Regina Cam is an excellent resource. It is a great way to explore the city and its surroundings, giving viewers a unique and unparalleled look at the beauty of the city.
Camera on the map and the Nearest