Floating Christmas Tree, Geelong live webcam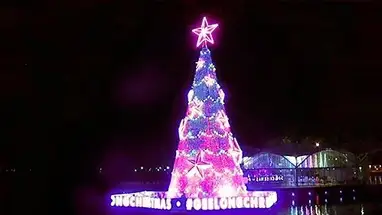 Sorry, the camera is currently unavailable
Floating Christmas Tree, Geelong
Christmas is a time for joy and celebration, and there's no better way to get into the holiday spirit than with a beautiful and captivating floating Christmas tree! Located in Geelong, Australia, the city has long been a popular destination for holiday activities. This year, they're offering something truly special—a floating Christmas tree, visible from the waterfront.
The floating Christmas tree is a spectacular sight to behold, with its twinkling lights and snowflakes illuminated by the evening sky. It stands tall in the water, and its branches reach up to the sky, bringing a sense of peace and joy to anyone who gazes upon it. The tree is also visible from an online webcam, giving viewers from around the world the chance to enjoy this unique holiday experience.
The tree is lit up from December 1st to December 25th, and is a perfect backdrop for holiday photos and memories. Locals and visitors alike can take part in the festivities, with a variety of activities and events to be enjoyed. From carolling to fireworks, there's something for everyone to enjoy.
The floating Christmas tree is one of the many festive attractions Geelong has to offer. It's a great way to experience the spirit of Christmas, and to connect with the community during the holiday season. So why not take a few minutes out of your day to check out this majestic floating Christmas tree? With its festive lights, it's sure to brighten up any winter evening.
Camera on the map and the Nearest