Webcam in the nest of storks in Dragushinovo village, Bulgaria live webcam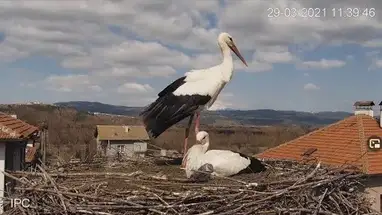 Sorry, the camera is currently unavailable
Webcam in the nest of storks in Dragushinovo village, Bulgaria
The village of Dragushinovo in Bulgaria is home to one of the world's most unique and remarkable webcams. Located in the nest of a pair of white storks, the webcam has been monitoring the birds' activities since April 2019.
The webcam is set up in the nest of two adult white storks, which were first spotted in the area in the spring of 2018. Since then, the birds have maintained a steady presence in the village and have become a beloved part of the local culture. The webcam was installed with the aim of allowing people from around the world to observe and learn about the lives of these majestic creatures.
The webcam is equipped with two high-quality cameras, which provide a live video feed of the storks and their nest. The webcam also captures sound, allowing viewers to listen to the birds' songs and calls.
The webcam has been a great success, with thousands of people tuning in to the live feed each day. The footage has given viewers an insight into the lives of these beautiful birds, from their courtship rituals to their daily activities. It has also been used by researchers to monitor the storks' behavior and population dynamics.
The webcam has become a beloved part of the village, with locals gathering to watch the birds and discuss their activities. It has also been a great source of pride for the village, as it has helped to raise awareness of the unique wildlife and habitat of Dragushinovo.
For anyone looking for a unique and fascinating window into the lives of birds, the webcam in Dragushinovo is the perfect opportunity. So be sure to tune in and enjoy the show!
Camera on the map and the Nearest