Webcam at the bird feeder in the Rose Valley, Bulgaria live webcam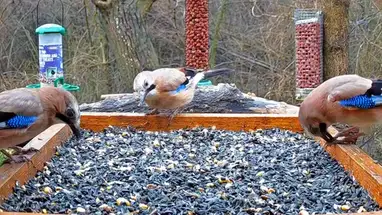 Sorry, the camera is currently unavailable
Webcam at the bird feeder in the Rose Valley, Bulgaria
The Rose Valley in Bulgaria is a beautiful area that is home to many different types of wildlife. One of the best ways to enjoy the wildlife in the area is to watch from the comfort of your own home with an online webcam. Located in a small village in the valley, this webcam provides a unique opportunity to observe a variety of birds, including some rare species.
The webcam is situated near a bird feeder, allowing visitors to observe the birds up close and personal. Common species that can be spotted include the Great Tit, the Common Buzzard, the Eurasian Jay, and the Long-tailed Tit. The feeder is also frequented by many other species including the Black Redstart, the Red-breasted Flycatcher, and the Grey Wagtail.
In addition to the birds, the webcam also offers a great view of the beautiful scenery around the area. The lush green hills and valleys of the Rose Valley can be seen in the background and the vibrant colors of the wildflowers that bloom during the summer months are a sight to behold.
The webcam is a great way to experience the beauty of the Rose Valley without leaving your home. It is also a great way to keep an eye on the birds to ensure that they are safe from predators. The webcam is also used by local biologists and researchers to study the birds and their behavior.
Overall, the webcam at the bird feeder in the Rose Valley in Bulgaria is a great way to observe the birds and the scenery of the area. It is a great way to get a glimpse of the wild beauty of the area without having to travel. So, if you want to experience the beauty of the Rose Valley, make sure to check out the webcam!
Camera on the map and the Nearest