PTZ webcam of the Holy Assumption Pochaev Lavra, Pochaev, Ukraine live webcam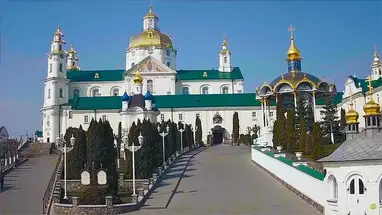 PTZ webcam of the Holy Assumption Pochaev Lavra, Pochaev, Ukraine
The Holy Assumption Pochaev Lavra in Pochaev, Ukraine is an important pilgrimage site for Eastern Orthodox Christians. It is home to the miraculous icon of Our Lady of Pochaev and is one of the most important monasteries in Ukraine. Now, visitors from all around the world can get a live view of the Lavra with the online webcam PTZ webcam.
The PTZ webcam is located in the Lavra's main square, providing a live view of the square and the nearby buildings. The webcam is equipped with pan, tilt and zoom capabilities, allowing viewers to explore the Lavra in full detail. The webcam also offers a unique perspective over the Lavra, featuring high resolution images and a wide angle view.
In addition to the live stream, the webcam also offers an archive of the past 24 hours of footage. This allows viewers to experience the Lavra at different times of the day and witness the changing light conditions. The webcam also features time-lapse playback, allowing viewers to experience the Lavra in fast motion.
The webcam has proved to be a great asset for pilgrims and visitors to the Lavra. It allows them to get a glimpse of the Lavra from anywhere in the world, as if they were actually there.
The online webcam PTZ webcam of the Holy Assumption Pochaev Lavra is a great way for people to experience the beauty of the Lavra from the comfort of their own homes. It is a wonderful way to appreciate the Lavra from afar and to be a part of the holy site.
Comments
Camera on the map and the Nearest